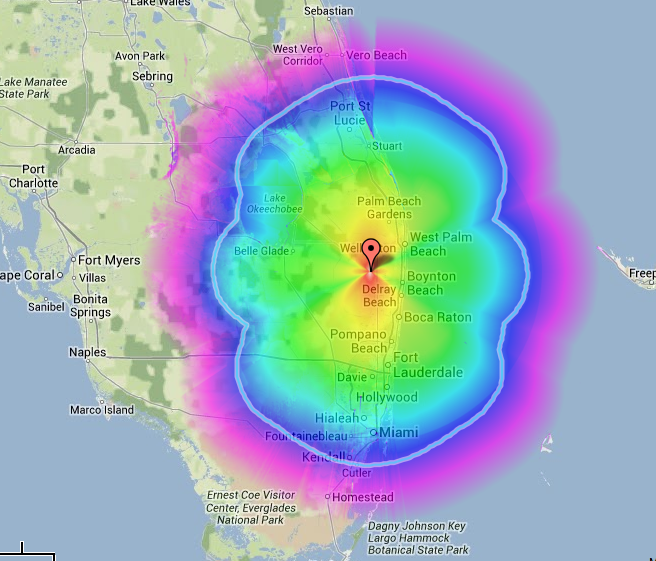 WHDT World Television Service, virtual channel 9 (channel 42), is a television station located in West Palm Beach, Florida. WHDT produces high definition program content for syndication and for broadcast. Programming includes evening news and weather, automotive news and motorsport programs, documentaries, independent films, classical music concerts, equestrian sports, aviation, fishing, cooking, travel, high school athletics and syndicated entertainment shows. The station maintains a full high definition schedule, including paid programming.
The station maintains studio facilities located on Southeast Waaler Street in Stuart, and its transmitter is located in Wellington. The station's programming is simulcast on translator stations WHDN-CD, virtual channel 9 (UHF digital channel 26), in Naples and by WHDT-LD, virtual channel 3 (UHF digital channel 38), and in Boston, Massachusetts (with transmitter facilities located in the Government Center district in downtown Boston).
On cable, WHDT is available on: AT&T U-verse channel 44 in and channel 1044 in DISH Network channel 9 (transponder 8877) in standard definition and channel 9-00 (transponder 5186) in high definition; Comcast channel 17 in standard definition and channel 438 in high definition in West Palm Beach
History
The station was founded on May 25, 2000, by Dr. Günter Marksteiner, making WHDT World Television Service the first digital television station in the United States, following a ruling by the Federal Communications Commission that the station could provide primary over-the-air service using only a digital signal. On June 1, 2001, the station conducted the first over-the-air broadcast using a progressive high definition format operating at720p/60 fps, with custom-designed 35 mm frame-transfer cameras.
WHDT established the legal precedent requiring local cable systems to carry the primary programming of all digital television stations in both high definition format and in standard definition analog format. It is the first television station to have its high definition and standard definition feeds carried on cable providers under the FCC's digital "must-carry" rules. The station originally operated as the first broadcast partner of the Deutsche Welle World Television Service. WHDT is one of three stations operated by WHDT World Television (DE), a business unit of Marksteiner AG.
The station's two translators, WHDT-CD in Miami (now WLPH-CD) and WHDT-LD in Boston are notable as those stations were the first and second digital translators to be authorized by the FCC. WHDT-CD has a longer history than its full-power cousin. The station was first licensed as W25AL on September 21, 1987. In 1989, it was moved to Coral Springs as W55BO, which functioned as a translator of Miami CBS owned-and-operated station WCIX (channel 6, now WFOR-TV on channel 4). Ownership of the station was transferred to Günter Marksteiner in 1996. The station continued to carry a full schedule of CBS programming until 1997, when it was relocated to North Miami and began digital translator operations for WHDT in December 2001. In January 2014, the call sign was changed to WLPH-CD. In March, the station was sold to LocusPoint Networks.
In August 2010, WHDT became the first high definition affiliate of the Retro Television Network. The network's classic television programming was aired up-converted to 16:9 HD format as opposed to being remastered from the original film masters. On October 27, 2011, WHDT announced that it would disaffiliate from RTV and begin carrying programming from WeatherNation TV; it switched to WeatherNation on the weekend of October 29.
On June 15, 2012, WHDT launched The Auto Channel (TACH-TV), a full high definition broadcast service dedicated to automobile enthusiasts,. TACH-TV airs on WHDT daily from 2 pm to 5 pm, and from 7 pm to 10 pm ET. WHDT is the first broadcast affiliate of The Auto Channel network.
WHDT again set precedent by airing  the first television program about medical cannabis in the Fall of 2013,  Cannabis Planet.  This educational program was designed to educate the general public on this topic of cannabis, and broadcast for 3 full years before Florida voters passed Amendment 2. Tune in on weekends for new episodes each week on WHDT.
From 2013 – 2016 WHDT produced the WHDT WORLD NEWS 9 from Chicago, IL.  The news team led by anchors Gary Franchi, Mark Maxwell and Danielle Masterson created an independent, old-school approach to the news, covering topics ranging from world news, politics, finance and local South Florida happenings.
2018 sees a fresh programming to the WHDT line-up including The Balancing Act, Business First A.M., Ted Talks, Murdoch Mysteries, The Auto Channel, and Sunday Night Movies.